Trådning
Trådning är en urgammal metod för hårborttagning. Det är populärt i många arabiska länder, liksom i den indiska och persiska kulturen där det kallas Bande Abru ("Abru" betyder ögonbryn och "Band" betyder tråd). Trådning av hela ansiktet är utbrett bland iranier, men det praktiserades ursprungligen när en kvinna skulle gifta sig eller vid andra speciella tillfällen. I det forna Persien, var trådning ett tecken på att en flicka hade nått vuxen ålder och blivit en kvinna. Trådning har även vuxit i popularitet i västvärlden.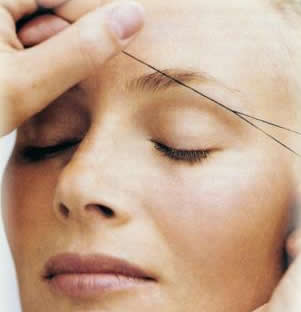 Threading is an ancient method of hair removal. It is popular in many Arabic countries, as well as Indian and Persian culture where it is called Bande Abru ("Abru" means eyebrow, and "Band" is the thread). Threading the entire face is widely spread amongst Iranians, but it was originally practiced when a woman was getting married or during special occasions. In ancient Persia, threading was a sign that a girl had reached adulthood and become a woman. It has also gained popularity in Western countries.
Ögonfransförlängning
Har du alltid drömt om förföriska ögonfransar eller är du bara trött på att använda mascara varje dag?
Med våra ögonfransförlängningar får du de fylliga, långa fransar som du alltid önskat dig.
Fransarna limmas fast och de är väldigt tunna och lätta så att du inte får tunga ögonlock.
Vi använder ett speciallim för att limma fast fransarna på dina egna ögonfransar.

En grundbehandling tar cirka två timmar och för att fylla på, vilket behöver göras var tredje vecka, tar det ungefär en timme.

Vi har olika längder och tjocklekar och vi tar hänsyn till din ålder så att det skall se naturligt ut.
Om du önskar kan vi även fästa dem i en mer buntad stil för en mer dramatisk effekt.

Har du linser är detta inget problem.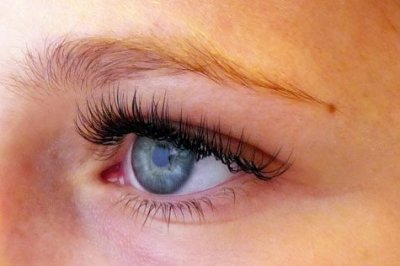 Att tänka på efter behandlingen:
att inte tvätta ögonen på minst 2 dygn efteråt. Sedan kan man tvätta ögonen och både basta och bada.
att inte använda något medel på eller nära fransarna som innehåller olja (bl.a. mascara). Välj vattenbaserad sminkborttagning och var försiktig med ögonkräm. Speciell mascara finns att köpa.
att undvika gnugga i ögonen och dra i fransarna.
att försöka att inte sova med ansiktet i kudden.
att kontakta Saras Beauty Center direkt om du får problem.
att inte dra av fransar själv. Boka tid i salongen. Vi kan skonsamt ta av fransar med hjälp av speciellt fransborttagningsmedel (utan kostnad).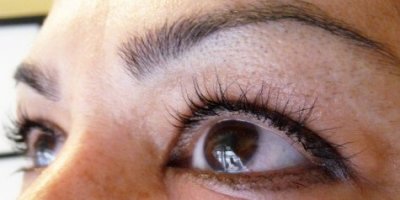 Our eyelash extensions look and feel so natural that you will have everyone guessing if they are real. It's the must have beauty treatment for anyone who hates wearing mascara/make up or the Busy Women who wants to look good without any effort…
After treatment care:

Make sure that you do not wash your eyes till 2 days after treatment, do not go to sauna nor swim in these two days.
Make sure that you do not use oil based makeup products such as mascara and eye-makeup remover choose the waterbased ones, special mascara is available for sale.
Avoid rubbing the eyes and pulling the lashes.
Try not to sleep with your face in the pillow.
Contact Saras Beauty Center directly if you have any problems.
Not to pull the lashes yourself. Make an appointment with us and we can gently remove the lashes for you with a special gel (for free).
 Ögonfranspermanent (fransböjning)
För dig med raka ögonfransar eller fransar som slits hårt av böjning med fransböjningstång kan vi erbjuda en permanent böjning som håller i ca två månader.
Fransarna behåller sin böjning även utan mascara. Den här behandlingen sparar dig tid och dina ögonfransar.
Permanentning av frans kan med kombineras med ögonfransfärgning för mer effekt.
For you with straight lashes that use or not use curler, we have a new treatment which holds upto almost two months.
You will have curled lashes without using mascara. This treatment saves a lot of your time and even your lashes!

For more effect combine the color and lash permanent.