Ansiktsbehandlingar hos Saras är avsedda för din hudtyp med högkvalitativa produkter anpassade efter ditt behov och säsongen.
Ansikts- och nackmassage ingår i alla ansiktsbehandlingar.
Vi erbjuder även motsvarighet till dessa behandlingar med gamla Persiska recept baserade på växter och sällsynta örter. Dessa hittar du under "Herbal Treatements".
Facials at Sara's are designated for your type of skin with high quality skin care products according to the needs and season change. All facials includes face and neck massage.
Equivalent of these treatments with ancient Persian herbal recipes and rare herbs is being offered.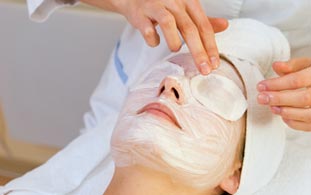 Ansiktsrengöring
Denna behandling består av avslappnande ansiktsbehandling med ånga
som försiktigt rengör och peelar och utvinna.
En mask, specifik för din hud, appliceras och följs sedan av toning och fuktskydd.


SPA FACIAL CLEANSING
This treatment consist of relaxing facial with steam vapor gently cleansing, exfoliating and extracting. A skin specific mask application is followed by toning and moisture protection. Includes face, neck massage.


Hydra Dew Ansiktsrengöring
Denna djupa porrengörande behandling är utformad för maskulin hud för
att göra den smidigare och återställa jämvikten i hyn. Ett galvaniskt instrument
användas för att minimera åldrandets effekter.
Exfoliering av torr hud, UV-strålning, ånga, utvinning och
avslutande mask ingår för att uppnå bästa resultat.
Inkluderar förutom massage för ansikte och nake, en speciell massage kring ögonen.


HYDRA DEW FACIAL
This deep pore cleansing treatment is designed for masculine skin to smooth and rebalanced the complexion; galvanic instrument will be used to minimize the aging effects. Exfoliation of dry skin, Ultraviolet rays, steam, extraction and finishing mask are incorporated to achieve the best results. Includes around eyes special treatment, face, neck massage.


Uppstramande Ansiktsbehandling
Det lyxigaste sättet att återställa och balansera huden.
En ansiktsbehandling rik på vitaminer, mineraler och aminosyror ger
omedelbara resultat som varar upp till flera dagar efter ansiktsbehandlingen.
Din hy verkar och känns mjukare och smidigare!
Behandlingen ges på ansikte och hals.


FIRMING FACIAL
The most luxurious way to restore and balance the skin. A facial rich in vitamins, minerals and amino-acids provides immediate results that last up to several days following facial. The complexion appears and feels smoother and more supple. Instant dramatic results! Includes face, neck.


Lyftande Behandling
Ger en omedelbar trigger för yngre hud.
Designad för att stärka, lyfta och strama mogen hy.
En enzymatisk mikro peel hjälper till att ta fram en livfull hy!
Ultravioletta strålar, massage och en svalkande mask ger fast och slät hud.
Sedan får huden en behandling med ett lyftande serum för omedelbara och synliga resultat.
Långsiktiga fördelar för att bevara elasticiteten, förbättra syretillförseln
och hjälpa snabb cellförnyelse.


LIFTING TREATMENT
Provides an instant trigger to younger looking skin. Designed to invigorate, lift and firm mature skin. An Enzymatic Micro peel helps uncover a vibrant complexion. Ultraviolet rays, massage and a cooling mask firm and smooth skin. Then the skin is treated with Lift Serum for immediate and visible results. Long term benefits to preserve elasticity improve oxygenation and help prompt cell renewal.


Acne Behandling
En kombination av naturliga örter och marina ingredienser ger fördjupade
hudreparation med bestående effekt. Denna behandling kontrollerar
oljeproduktionen från överaktiva talgkörtlar samtidigt som ditt skinns
naturliga fuktbalans behålls.
En anti-inflammatorisk och anti-bakteriell formula helar och ger samtidigt ett skydd
mot skador av missbehandlad akne och ärrbildning.


ACNE CURE FACIAL
Combination of natural herbal and marine ingredients provides advanced skin repair with lasting benefits. This treatment controls oil production from overly active sebaceous glands while maintaining your skins natural moisture balance. Anti-inflammatory and anti-bacterial formula heals, while protecting against the damage of mistreated acne conditions and scarring.


Peeling
Designad för att ta bort rynkor, pigmentering och missfärgning av huden.
Det finns två utföranden av denna behandling, en kemisk peeling och en
tradiotionell Persisk peeling med ett mildare, växtbaserat recept.


PEELING
Designed to remove wrinkles, pigmentation and skin discoloration, peeling is done by our expert and to ensure that you are not allergic toward the chemical peeling, an allergy test is done and if you are allergic the mild Herbal peeling made out of fine ancient Persian recipes.


Snabbbehandling
Har du inte mycket tid?
Denna ansiktsbehandling är för dig!
Trettio minuter av rengöring, peeling och en lätt massage.
Återuppliva din hud!


Don't have a lot of time? This facial is for you! Thirty minutes of cleansing, exfoliating and a gentle massage. Revive your skin!